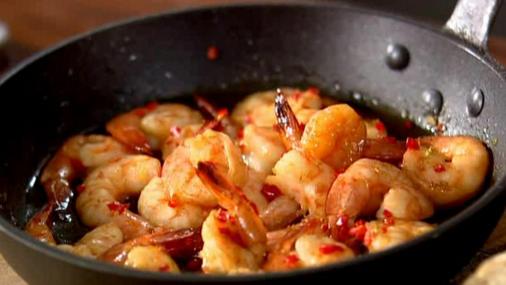 Een smakelijk en eenvoudig voorgerechtje met slechts vijf ingrediënten. Een onvervalste topper
:
tijgergarnalen met Spaanse peper en whisky
.
We combineren dit gerechtje met een Ben Nevis 10. Het uiterlijk van de fles verraadt al dat dit een heerlijk ouderwetse Highland whisky is. Een vleugje rook, wat kruidigheid, citrusaroma en eik.
Voorbereiding - bereidingstijd - totaal .Voor
4 personen
Ingrediënten
Zeste van 1 limoen

Sap van 2 limoenen

9 cl Ben Nevis 10 single malt whisky

180 gr bruine suiker

20 rauwe tijgergarnalen, gepeld en ontdaan van het darmkanaal

1 Spaanse rode chilipeper

1 el arachideolie
Extra keukenmateriaal
borsteltje om de scampi's te bestrijken
Bereiding
Verwarm de oven voor op 200°C.
Zet een pan op een middelhoog vuur en doe er de limoensap, whisky en suiker in. Roer zachtjes tot de suiker is opgelost. Laat 5 tot 7 minuutjes doorkoken tot het mengsel stroperig wordt en begint in te dikken. Een trucje om te weten of de glazuur klaar is: steek even een houten lepel in het mengsel en als er nog een klein beetje aan de lepel blijft kleven is het goed.
Roer er de fijngeraspte limoenzeste onder en haal de pan van het vuur.
Ontdoe de chilipeper van zaadjes en snijd fijn. Leg de tijgergarnalen in een ovenschaal en strooi er de gehakte chilipeper over. Bestrijk de garnalen met olie en glazuur en zet ze in de oven. Bak de garnalen goudbruin gedurende 10 - 15 minuutjes.
Haal ze uit de oven en bestrijk opnieuw met glazuur. Hou eventueel wat opzij als dipsaus.
Serveer onmiddellijk. Smakelijk!
Lees het originele recept van
Lorraine Pascal
op BBC Food
---
Elke vrijdag is Foodie Friday bij A Tasty Dram. In deze wekelijkse rubriek krijg je een heerlijk recept waarin whisky een hoofd- of bijrol krijgt. Soms een eenvoudige cocktail of voorgerecht, soms een iets moeilijker hoofdgerecht of dessert. Maar altijd tongstrelend lekker.