Glen Moray Distillery ligt aan de oevers van de Lossie, een rivier in de Speyside regio. De stokerij was oorspronkelijk een brouwerij (West Brewery) en werd omgetoverd tot een whiskydistilleerderij in 1897. Voor de overname door de Franse groep La Martiniquaise was het een vrij onbekende naam verborgen in de schaduw van Glenmorangie en Ardbeg.
Nu is het een van de grotere spelers in de industrie met een capaciteit van 3.3 miljoen liter alcohol. Eind 2015 zou de stokerij zelfs een capaciteit van 6.5 miljoen liter moeten bereikt hebben! De whisky is de hoeksteen van de, in Frankrijk immens populaire, Label 5 blend. Het kerngamma bestaat uit een Classic NAS, 10 jaar oude Chardonnay cask, een 12 jaar oude en een 16 jaar oude single malt. Ondertussen kwamen daar ook nog eens een Peated cask en een Port finish bij.
Identiteitskaart
Glen Moray Distillery, Elgin (Speyside)
Bottled by Chapter 7
25 jaar oude single malt single cask
56.7% ABV
Natururlijke kleur en niet koud-gefilterd
Bourbon hogshead #524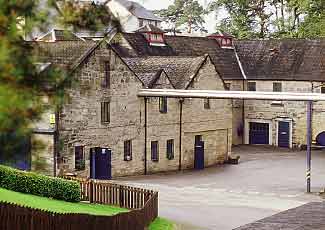 Glen Moray Distillery. afbeelding The Whisky Exchange
Proefnotities
Kleur:
Een rijkelijke gouden gloed in het glas. Dit is geen jong gastje meer en kan het ook niet verbergen. De benen na het walsen zijn dik, traag en vettig. Het veelbelovende teken van een respectable rijpe malt.
Neus:
Een heerlijk parfum. Sappige zoete peren met kruidnagel gepocheerd in zoete witte wijn. Melkchocolade met kokosnoot. Havermout en taartbiscuit met speculoosbodem bedruipt met notenolie. Dit doet me trouwens heel erg aan de Sandalwood scheerzeep van Geo. F. Trumper's denken (een absolute aanrader voor iemand die zich graag scheert en weg wil van de rommel van Gilette en co.).
Vermengt met een theelepeltje water komt er na een paar minuutjes rust vleugjes kokosnootolie bovendrijven en een aangename toets van kurk. Sorbet van champagne of Poire Williams.
Smaak:
Aha, hier is de beloofde heerlijke tectuur. Sandelhout en rozen. Kokoscrème vermengd met een musk parfum. Een oude lederen stoel in een parfumerie of barbierszaak uit een lang vergeten tijd.
Met water wordt de nectar romig en zacht. Oude zoete wijn met houterige accenten die het geheel een licht bittere toets geven. Ontbijt met Earl Grey thee en marmelade van tangerines.
Finish:
Een net niet eeuwigdurende bitterzoete finish van een eersteklas oude dessertwijn.
Prijs: €129 via
Indiegogo
(Best een koopje voor zeldzaam oude Glen Moray).
Flaviar had de whisky een tijdje te koop.
Het lijkt erop dat ze allemaal de deur uit zijn.
---

Selim van Chapter 7 startte onlangs met een Indiegogo campagne. Via verschillende abonnementsformules ("perks" in Indiegogotaal) kan je Chapter 7 samples of single casks kopen met kortingen tot 35% op de normale winkelprijs. Je kan er ook voor opteren om elk kwartaal een fles te laten opsturen om te openen en van te genieten met vrienden.
Daarnaast krijg je ook toegang tot de Wanthology Club, een webshop waar je geschenkdozen met Chapter 7 samples, meer mainstream single malts en af en toe een verborgen schat (Hoe noem je anders een triple matured Lagavulin?) kopen. De mooie tubes in geschenkdoos kunnen het perfecte vaderdagcadeau zijn, of gewoon om jezelf te plezieren.

Bron, afbeelding en sample: Chapter 7