Established by Flaviar & Friends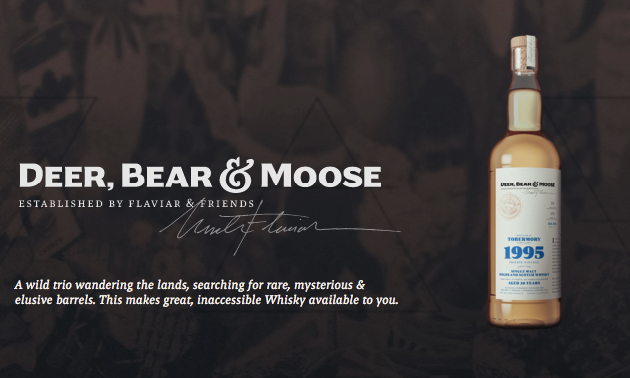 Flaviar introduced a single cask series named Deer, Bear & Moose.
The first edition is a 20 year old single cask from Tobermory Distillery on the Isle of Mull. This Tobermory is an unpeated single malt distilled in 1995 and aged in a hogshead barrel. We're assuming they mean an ex-bourbon cask with this statement. It is bottled at cask strength and unchillfiltered. The number of bottles remains unknown.
Flaviar members could subscribe to a lottery system and (with some luck) be selected to buy the whisky on December 28th, 2015.
What the Flaviar team says on their first single cask:
Tobermory does not just bear a mark of tradition that is continuing for more than 200 years. While it stays true to the simple ingredients of pure unpeated barley, its richly savory water is high on peaty phenols that transmit a subtle flavour to the Whisky just as it did centuries ago.
This extremely limited two decades old behemoth, distilled in 1995 and aged in a single Hogshead barrel, is everything what the Whisky crusaders of Deer, Bear & Moose are questing for. And it will only be sold once.
Identity Card
Deer, Bear & Moose Tobermory 1995
Tobermory Distillery, Mull (Islands)
20 year old single cask
55.9% ABV
Distilled in 1995
Hogshead #1094 | bottles
€135
Source and pictures: Flaviar