After a busy week, I'll try to get you up to speed in less than two minutes on the latest whisky news, rumours and interesting blog posts from the past week.
News
Press releases and industry news from the past week(s).
Benromach 1977
Benromach launched another single cask from the seventies. Cask #1268 is an American refill hogshead distilled in 1977 and matured for 39 years. A beautifully written, hardback book accompanies the whisky, which delves into the history of the distillery and the personalities who handcraft the whisky using time honoured techniques passed down for generations.
Gordon & Macphail Private Collection Glenlivet 1943
Gordon & Macphail announced the release of Private Collection Glenlivet 1943, the latest offering in its ' Private Collection' range. Only forty decanters will be available for sale globally, with a UK RRP of £30,000.
Compass Box No Name & Phenomenology
Compass Box released two new whiskies in their blended malt range: Phenomenology and No Name. The first one is a big secret, the second one is their peatiest whisky yet... And as always, stunning graphic design on the labels.
Jura Sherry Cask Collection
The Isle of Jura Distillery releases a new series of Global Travel Retail whiskies. The four whiskies matured in ex-bourbon barrels before being finished in Pedro Ximénez sherry casks. The whiskies are called The Sound (£45) The Road (£60), The Loch (£70) and the 19-year-old The paps (£85). Oh, and Jura unveils in Dalmore-style that the whisky has been finished in casks that once held x-year old PX Sherry. Or is this a Dark Pattern to mislead quick-reading consumers?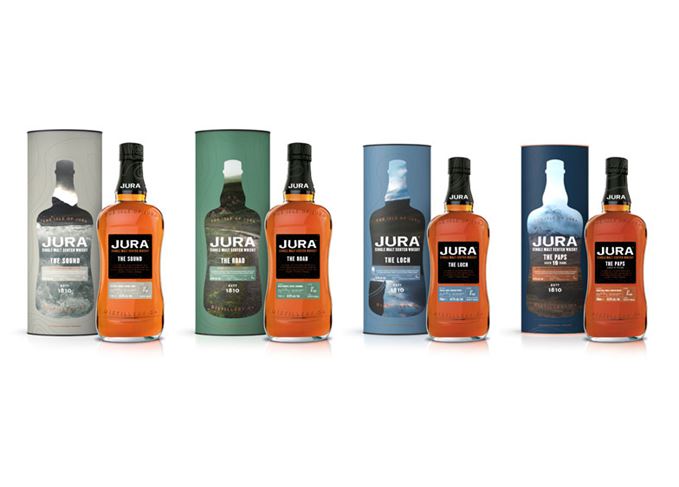 Kilchoman Red Wine Cask Matured
Distilled in 2012, the Red Wine Cask Matured has spent its full maturation term in the single cask type rather than being a finish. The casks, from the Douro Valley in Portugal, were personally selected by Anthony Wills. The Red Wine Cask Matured follows Port, Madeira and Sauternes matured expressions released annually since 2014.
Rumours
What's peeping through the barley?


Douglas Laing Halloween surprise
Douglas Laing has a surprise up its sleeve for Halloween. I'm open to suggestions. A Halloween themed Big Peat. Something else from the Remarkable Regional Malts? Or a Campbeltown blended malt at last? Who knows?

Some interesting reads