Welcome to 2020, another year to discover breathtaking whiskies and making new whisky friends. Let's kickstart the year with tasting notes of the festive whisky from Wemyss Malts: Nectar Grove Batch Strength.
Madeira casks aren't the most common vessels to finish or mature a whisky. Only a handful distilleries had a limited run with Madeira casks in a lead role. Wemyss Malts Nectar Grove launched in the first quarter of 2018 and now has a high strength brother.
Nectar Grove Batch Strength is a blend of 2 Highland single malts. The blended malt is finished in unknown Madeira casks.
I won't dive into depth on the production methods and Madeira styles. I summarised most of it in my blog post on
the original Nectar Grove
. There's way more to this Portuguese wine from the Flower Island than what can be found in the supermarket.
Let's set sail with a glass of Nectar Grove!
Identity Card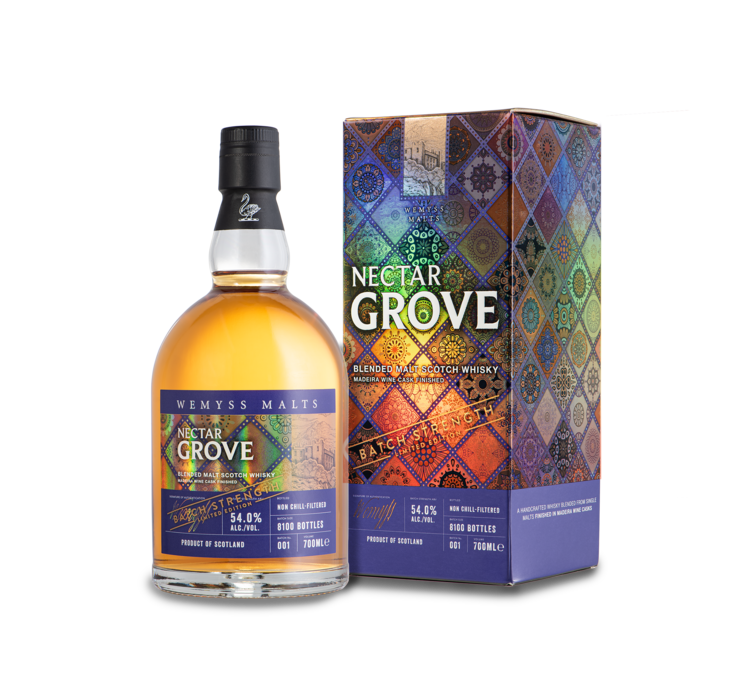 NAS Highland blended malt
Finished in Madeira casks
Outturn: 8100 bottles
Alcohol: 54% ABV
Tasting notes
Colour: Brushed gold with thin fast legs.
Nose: A malty start but from then on it's a basket of summer fruit. Peaches, apricots honey and cherries. Acacia nectar, melon and marzipan with dried fruits and nuts. A festive dram for sure.
With water: a tad dustier. More wood and honey.
Taste: The alcohol is fairly prominent. A serious pinch of white pepper and slightly metallic. Cloves, unripe pears and warm muesli. Chestnuts and beechnut. Marzipan. Bitter orange peel.
With water: Nuts, wood. Honey, melon and unsweetened apricot liquor. Bitterness from grape seeds
Finish: A warm mouth feel. Syrupy. Nut cake.
Wemyss Malts delivered a truly festive malt with the Batch Strength version of Nectar Grove. The original
Nectar Grove
was almost on par with
Velvet Fig
. This high strength version has the same qualities with a bit more oomph. Upon consulting my tasting notes of the regular version from last year, I discovered much of the same descriptors. My compliments to the blending team for creating an almost identical copy of the original whisky.
So, when will we see a Batch Strength Velvet Fig?
Sample and images:
Wemyss Malts